ALPINE Multi-View High Dynamic Range (HDR) Front Camera - HCE-C2600FD
Sold out
Original price
$329.95
-
Original price
$329.95
Product Overview
The weather-resistant HCE-C2600FD will help you steer away from obstacles in front of and on the sides of your vehicle, even in the off-road elements.
Features
HDR (High Dynamic Range) technology enhances detail in light and dark conditions

Selectable 3 View Modes (Panorama/Corner/Ground) with select Alpine head units via Direct Connection and Multi-Camera Selector

180 degree horizontal, 125-degree vertical viewing angles

Automatic exposure and white balance adjustment
Universal Mounting Bracket and 10ft Waterproof Direct Extension Cable Included

Compatible with Multi-Camera Selector (KCX-C250MC or KCX-C2600B sold separately)

Compatible with License Plate Camera Mounting Kit (KTX-C10LP sold separately)
Tech Specs
Wide Illumination Range (1.5 to 100,000 Lux)
1/4 inch CMOS Image Sensor (1280 x 960, 1.2M pixels)
IP 68 Water and Dust-proof
Video
HDR TECHNOLOGY
The new High Dynamic Range (HDR) drive assist cameras have incredible image quality in varying levels of light. This new feature eliminates image wash-out common when going from areas of heavy shade into areas with bright sunlight.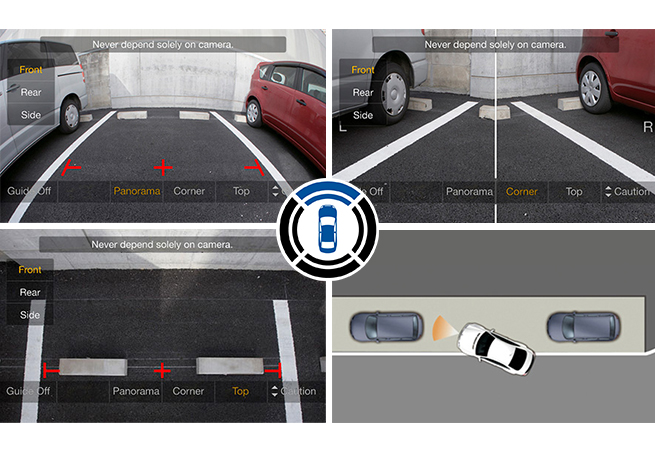 MULTIPLE VIEW OPTIONS
The HCE-C2600FD has three viewing modes to show obstacles on the sides and in front of your vehicle from different angles: Panorama, Corner and Ground Views. The camera system includes automatic imaging functions such as metering and white balance adjustment for clearer viewing.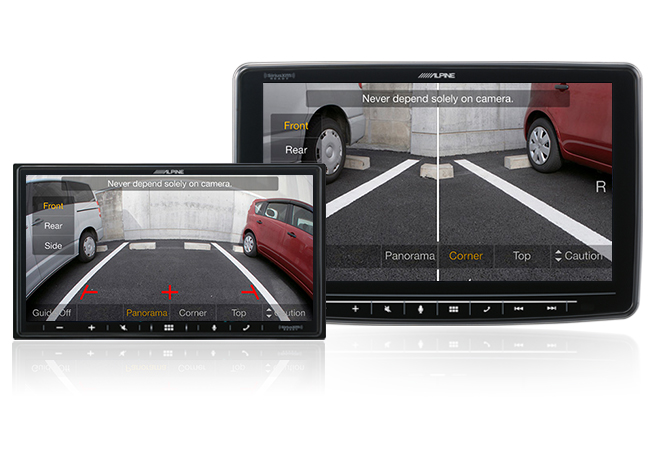 PAIR IT WITH ALPINE EQUIPMENT
The HCE-C2600FD is compatible solely with Alpine in-dash multimedia systems. The direct connection ensures the highest picture quality day or night. If you're using the HCE-C2600FD along with an Alpine rear-view camera system, you need to add the KCX-C250MC Multi-Camera Selector Interface (sold separately) to switch back and forth between the images from the various cameras.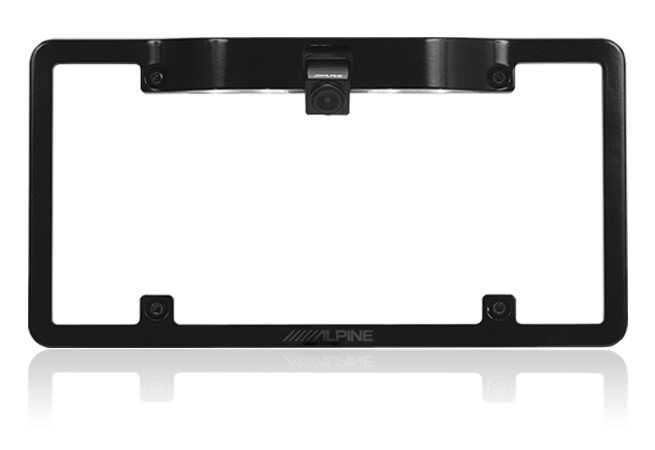 EASY INSTALLATION
The HCE-C2600FD pairs perfectly with Alpine's License Plate Camera Mounting Kit (KTX-C10LP – sold separately). The KTX-C10LP has a direct mount for the HCE-C1100 and a built-in LED light for extra brightness.
READY FOR RUGGED USE
The HCE-C2600FD is rated at IP68 (International Protection Rating), so it's protected from dust and water immersion up to one meter.
MADE FOR JEEP
The HCE-C2600FD was designed to help with the unique challenges when offroading with your Jeep:
Panorama View gives you a wide 180º landscape view perspective of the terrain which helps you navigate in tight spaces.
Corner View: Use the Corner view to identify obstacles on the sides of your vehicle and your distance from them, or how the distance of a rock in relation to your front tire.
Ground View lets you see cracks and crevices in the path immediately in front of your vehicle, so you can adjust your driving accordingly. If you're tackling a steep incline, the Ground View lets you see the decline in front of you.
The HCE-C2600FD can also be installed as a forward-facing application underneath your Jeep. This allows you to position the camera so it can be used to monitor the suspension or front wheels, giving you immediate viewing of these items from your Alpine touch screen.
-
NOTE: ALPINE products are available for sale only to US residents and will only be shipped to addresses using a US Zip Code